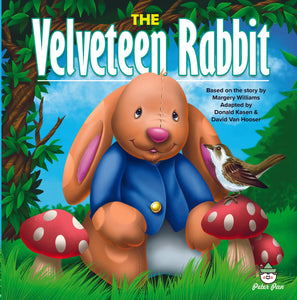 This is a downloadable eBook. A printed version is available from Amazon (see below).
This colorful edition of the classic story is sure to be a favorite bedtime or anytime story for any child.
It is the story of a stuffed rabbit who came to live with a boy as a Christmas gift. The boy loves the little rabbit and it quickly becomes the favorite toy.
The Velveteen Rabbit even believes he is real and is devastated when the boy becomes sick and all the toys have to be removed from the house.
In a turn of events The Velveteen Rabbit does become a real rabbit.
When you purchase the paperback book you receive a link to download the word-for-word audio read-along at no additional cost.
CLICK HERE to purchase from Amazon.