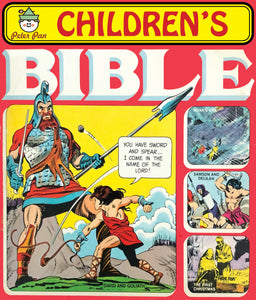 This is a downloadable eBook. A printed version is available from Amazon (see below).
The Peter Pan Children's Bible Storybook is a graphic novel of the most important stories in the Bible.
Includes a word-for-word audio read-along which can be downloaded upon receipt of your book.
Stories included are:
The Creation of the World
Adam and Eve in the Garden of Eden
Cain and Abel
Noah's Ark
Abraham's Sacrifice
Jacob and Esau
The Coat of Many Colors
Joseph in Egypt
The Burning Bush
Escape from Egypt
The Ten Commandments
The Battle of Jericho
Samson and Delilah
David and Goliath
The Wisdom of Solomon
Jonah and the Whale
Daniel in the Lion's Den
The First Christmas
The Three Wise Men
The good Samaritan
The Prodigal Son
The Crucifixion
The Ascension and The Pentecost
CLICK HERE to purchase a print book from Amazon.