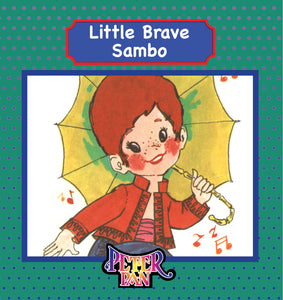 This is a downloadable eBook. A printed version is available from Amazon (see below).
Little Brave Sambo is the story of a young boy who decides to take a walk in the jungle with his new clothes.He meets several tigers and is forced to trade one of his new clothes to avoid being eaten by the tiger. In the end he tricks the tigers and gets all his new clothes back.
When you purchase the paperback book you receive a link to download the word-for-word audio read-along at no additional cost.
The EPUB features word-for-word read-along that can be turned on or off. By turning the read-along off this EPUB functions like a normal eBook.
CLICK HERE to purchase a print book from Amazon.