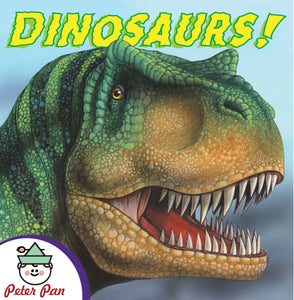 As part of the unique, science Know-It-Alls! Series that features stunning covers and engaging text, this book puts the spotlight on Dinosaurs! Did you know that Tyrannosaurus was the fiercest meat-eating dinosaur? It wasn't the biggest, but it was huge—7 tons (6.5 metric tons) of charging monster. At over 40 feet (12 m) long, it was a smart killer with sharp eyesight. Learn all about these prehistoric creatures and the paleontologists that study them. Awesome life-like illustrations and informative stat boxes, filled with interesting facts, make this 24-page book fun and exciting for young science enthusiasts age 4 and up!
Titles in the Know-It-Alls! Series include: Butterflies, Crocodiles, Dinosaurs, Farm Animals, Safari Babies, Snakes, Sharks, Spiders, Whales, Wolves, Puppies, Wild Cats, Bugs, Birds of Prey, Fish, Frogs, Apes, Seals, Bats, Bears, Predators, Mummies, Volcanoes, Lizards, Kittens and Horses.
This product comes in three formats: paperback book, paperback book with CD and eBook (pdf format). The CD includes the entire book in pdf format.