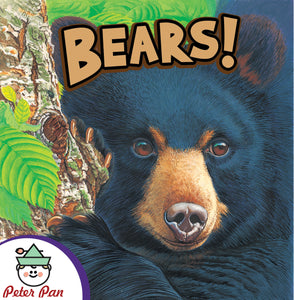 As part of the unique, science Know-It-Alls! Series that features stunning covers and engaging text, this book puts the spotlight on Bears! Did you know the Sun Bear is the smallest of all the bears? Sun Bears are not much bigger than a dog! They have a yellowish-orange mark on their chest that looks a little like a sun rising. Sun Bears live in the forests of Asia. Learn about Brown Bears, Kodiaks, Black Bears, Polar Bears, Spectacled Bears, Sloth Bears, Giant Panda Bears and Sun Bears. Awesome life-like illustrations and informative stat boxes, filled with interesting facts, make this 24-page book fun and exciting for young science enthusiasts age 4 and up!
Titles in the Know-It-Alls! Series include: Butterflies, Crocodiles, Dinosaurs, Farm Animals, Safari Babies, Snakes, Sharks, Spiders, Whales, Wolves, Puppies, Wild Cats, Bugs, Birds of Prey, Fish, Frogs, Apes, Seals, Bats, Bears, Predators, Mummies, Volcanoes, Lizards, Kittens and Horses.
This product comes in three formats: paperback book, paperback book with CD and eBook (pdf format). The CD includes the entire book in pdf format.