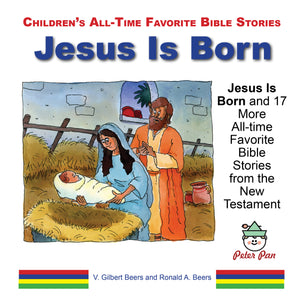 This is a downloadable eBook. A printed version is available from Amazon (see below).
A collection of Bible stories by V. Gilbert Beers and Ronald A. Beers. Each story includes a colorful illustration by Daniel J. Hochstatter.
Included with each story is a QR code with a link to the word-for-word audio read-along for that story.
Stories included in the book:
John's Birth Announced
Jesus' Birth Announced
Mary Visits Elizabeth
John the Baptist Is Born
Jesus Is Born
Angels Appear to the Shepherds
Shepherds Worship Jesus
Simeon and Anna Honor Jesus
Wise Men See a Star
Wise Men Visit Jesus
The Flight to Egypt
The Return to Nazareth
Jesus In the Carpenter's Shop
Jesus and the Teachers
Jesus Is Tempted
The Woman at the Well
Mary and Martha
Jesus and the Children
CLICK HERE to purchase from Amazon.