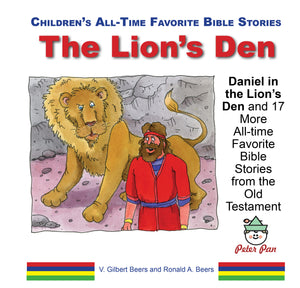 This is a downloadable eBook. A printed version is available from Amazon (see below).
A collection of Bible stories by V. Gilbert Beers and Ronald A. Beers. Each story includes a colorful illustration by Daniel J. Hochstatter.
Included with each story is a QR code with a link to the word-for-word audio read-along for that story.
Stories included in the book:
David Is Kind to Mephibosheth

David and Bathsheba

Absalom Rebels Against David

David Buys a Threshing Floor

David Plans the Temple

Solomon's Wisdom

Solomon Builds the Temple

Solomon Is Rich and Famous

Solomon Turns from God

Ravens Feed Elijah

A New Room for Elisha

Naaman the Leper Is Healed

The Story of Jonah

Daniel Refuses to Eat the King's Food

The Fiery Furnace

The Handwriting on the Wall

Daniel in the Lions' Den

The Story of Queen Esther
CLICK HERE to purchase from Amazon.