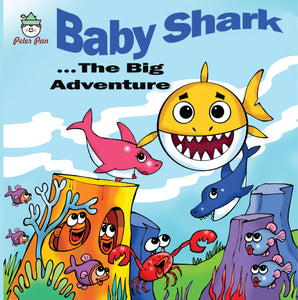 This is a downloadable eBook. A printed version is available from Amazon (see below).
In Baby Shark . . . The Big Adventure, Baby Shark and Sissy Shark are approached by a Giant Squid who says he has heard them sing and dance and wants to make them famous. The two young sharks are betrayed by the squid and held in sunken ship along with a group of fish. Eventually Baby Shark is able to escape and save the whole group. The lesson to be learned from the book is one of not being taken in by strangers making promises.
When you purchase the paperback book you receive a link to download the word-for-word audio read-along at no additional cost.
CLICK HERE to purchase from Amazon.